Testimonials
Amanzoe, Greece
4 June, 2015

"I had the pleasure of getting to know Ursula during my tenure as part of the pre-opening manag
ement team of a luxury property in Vietnam.
Ursula has the drive and passion one expects from an excellent trainer but not often encounters in reality. Ursula is different in every way. Her genuine care & passion to teach people is remarkable and has proven to be the best learning school. Not often I've seen people look up to a person so much that they basically become part of the family. She made a huge impact on several young students inspiring them for better.
Ursula is well diverse and has worked in different operations so this has given her an advantage to adapt her style of training as well. Her personality, passion for teaching and knowledge could definitely benefit any company who's eager to take their service levels to next step.
I feel fortunate to have worked aside a person such as Ursula"
Sven Van den Broeck
General Manager
Pullman Saigon Centre, Ho Chi Minh City, Vietnam 
31 May, 2015
"Ursula is a representation of a dynamic, passionate and creative trainer, mentor and leader who contr
ibutes 100% expertise and professionalism in all that she is involved in. I have been fortunate enough to witness Ursula's ability to train and develop staff & students alike, as well as maximize the skills and knowledge of those around her. Working together with Ursula for the VAVC internship program in Danang was one of my highlights. Ursula was able to provide the insight in the day to day operations during her theory lessons due to her career on the frontline, furthermore she assisted in the confidence growth of her pupils which enabled them to succeed and become the leaders they are today. The respect that myself, fellow staff, management and students have for Ursula is immense and I look forward to continuing the professional relationship moving forward".
Simon Angove
Director of Operations
Salinda Resort and Spa, Phu Quoc Island, Vietnam
30 April, 2015


"The trainings that are found on the website assisted me greatly in the initial pre-opening stages of the hotel. Furthermore, the ease and functionality of the trainings themselves were pivotal in creating the foundation for the staff and ensuring consistency throughout. Even after the hotels opening, the diverse trainings available were great refreshers to go over with the staff and hone their skills further."
Ashwin
Food and Beverage Manager
Panglao Island in the Philippines
6 March, 2015
"I am working with underprivileged youth (18 to 30) of Bohol who I am training in basic hospitality so they can get work here in the tourism industry, I found the Food & Beverage Training's to be invaluable, I could not have started this program without them, as this program is personally funded by me, as the students cannot afford to go to college, I could afford the training's and as they are not expensive and designed for the Asian market they are simple and easy for the students to understand.
Thank you for your support."
Peter
An Lam Villas Ninh Van Bay
December 27, 2014
"Not often in a career one has the chance to work with professionals like Ursula. She is always on top of things and create surprising moments that guests will never forget. Her natural leadership and work attitude is also a highlight of her character and skills."
Antoine Sirot
Chief Operating Officer at An Lam Hospitality
Capital Club Bahrain
August 19, 2012
"Ursula was a great member of the Capital Club Bahrain exec team. 
Creative, strong at relationships and fun to have around. We were sorry to see her leave.
Good luck in your next chapter."
Tripadvisor Comments
An Lam Villas Ninh Van Bay, Vietnam (2012-2014)
Food and Beverage Trainer- Hospitality Management & Consultancy Services 

Ursula Donnellan was the resorts Director of Rooms & Lifestyle. She managed the following departments from
October 2012- April 2014:
Guest Services
Front Office
Housekeeping
Recreation
Training
And assisted the Sales and Marketing team.
During this period An Lam Villas Villas was awarded Tripadvisor Travelers Choice Award 2013.
The luxury resort was ranked as the "Best Hotel" in Vietnam and number 14 in the world for the "World's Best Hotels".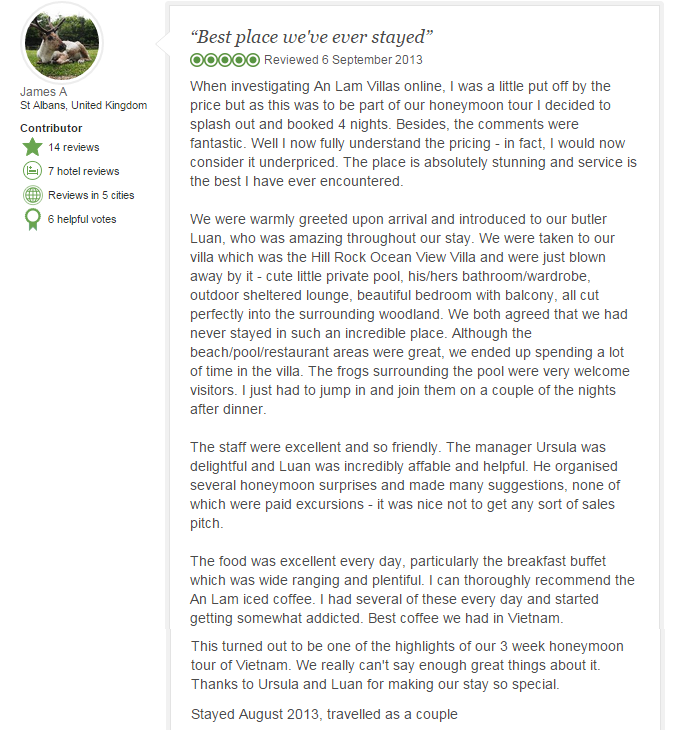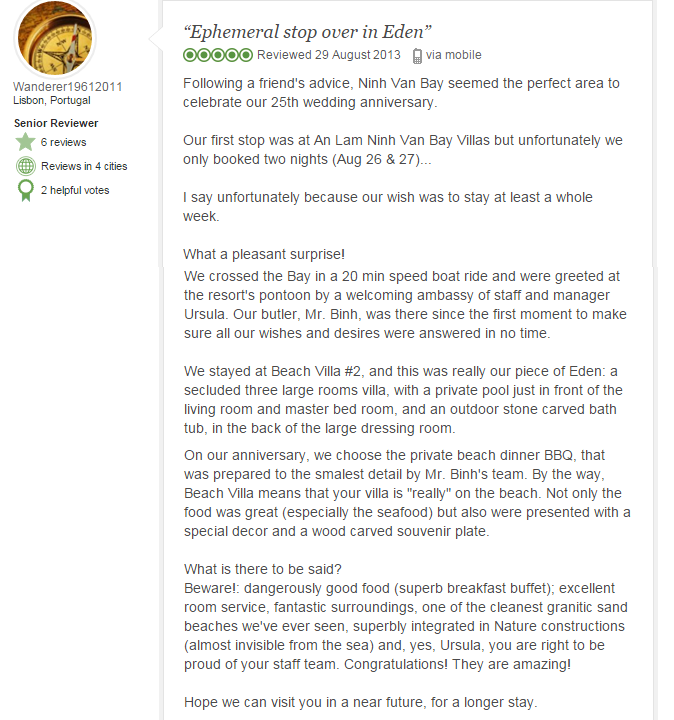 For more reviews on An Lam Villas Ninh Van Bay visit www.tripadvisor.com.